04 Aug

5 Tips to Make Your Outdoor Space More Inviting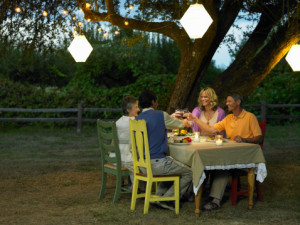 Even in the heavenly climate of California where weather tends to be rather ideal all year round, there's something about the summer months that beckons home owners to the outdoors. While many home owners focus on staging the indoor spaces of their homes to sell, or simply to show off, staging the outdoor areas of the home is just as important for that very reason.
With backyard barbecues and poolside cocktail parties running rampant this time of year, now is the perfect time to pay a little extra attention to the backyard. Here are a few easy tips for staging your home's outdoor space.
Spruce Up Chair Cushions and Seat Covers
While your patio furniture may be able to withstand a near-constant exposure to the elements, the fabrics on chair cushions and seat covers tend to fatigue after a few years or even just a few seasons outdoors. Breathe new life into the softer side of your lawn furniture by reupholstering seats and cushions. Be sure to consider fabrics that will last as long as possible. Invest in a fabric that is UV-protected and water-repellent for a fresh and tidy look to your furniture.
Brighten the Garage With Fresh Paint
The garage can be one of the dingiest and least-organized spaces of your home. Brighten up the space and your attitude in it by adding a fresh coat of white paint to the walls. A bright, white hue will reflect the sunshine and create a clean and inviting space that you may just be more apt to take care of.
Make Small Accents Pop With Neutral Colors
When sitting outdoors, it's hard to not be reminded of nature as you are completely immersed in it. Keep your outdoor decor from contrasting with nature too much by painting small accents of natural color around the yard.
"Keep the color connected to nature; think of the calming feel of outdoor water fountains that are popular now," advises Constantine Vasilos, interim head of the interior design department at Harrington College of Design in Chicago. "Just like a mirror or a painting is a focal point inside, the same applies outside."
Light Up Your Life
Make your yard accents really pop by illuminating them with inexpensive tea lights. You can place them around main gathering areas such as the patio table or near a beautiful trellis or tree. These small lights can create a very intimate, almost magical vibe around the outdoor space. Vasilos recommends staying away from LED lights unless the home and yard have a very strong contemporary feel.
Invest in Inexpensive Plants
While your outdoor plantings and garden areas can beautifully express the wonderful living aspects of a home, strategically placing plants around the outdoor space can also draw viewers' eyes back to the house. White flowers such as orchids placed near entryways or on top of stairwells can invite viewers' eyes and thoughts to return to the beautiful aspects of the home, making it more appealing and lovely.