Bryan Le, Vice President of Information Technology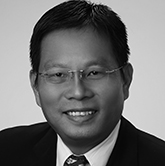 Bio:
Pango Group Vice President of Information Technology, Bryan Le, has a knack for helping companies grow, regardless of their business sector. Straight out of college he joined an action sports company, helping to build it from 55 employees to 500 over a seven-year period. He later worked with a $300 million furniture company as well as a $3 billion dollar multi-family construction business where he oversaw IT operations for 200 locations and 1,500 employees. His desire to transform a company's IT infrastructure to accommodate growth potential drew him to Pango Group.
"After the management team shared their future road map with me, I saw how my IT experience could be a contributing factor in achieving their long-term business objectives," Bryan shared. "I was drawn to that opportunity along with the stable business climate and family-oriented atmosphere." His responsibilities include: day-to-day operations, infrastructure, applications, compliance and security.
When he's not playing Dad to his three children, Bryan enjoys tennis but is most often found on the soccer field, getting his kicks running the ball with his league teammates.